| | |
| --- | --- |
| | PADI體驗水肺潛水 |
| | PADI Discover Scuba Diving |

If you're looking for a convenient way to try scuba,
look to a PADI Discover Scuba Diving experience
to broaden your horizons.
You can jump into this program near home in a pool,
or on vacation near open water.
Give it a try. Diving can change your life.
1. World's most popular introduction to scuba diving
2. Available in a pool, ocean, river, lake, quarry or
almost anywhere there's water
3. Discover Scuba Diving skills may be credited toward the
PADI Open Water Diver certification
4. Average dive depth is 6 metres / 20 feet (12 metres / 40 feet
is the maximum depth)

| | |
| --- | --- |
| | PADI開放水域 初級潛水員課程 |
| | PADI Open Water Diver |

I

f you've always wondered what lies beneath the surface, now's
the time to find out. Start the journey of a lifetime with the PADI
Open Water Diver course. It will change you forever.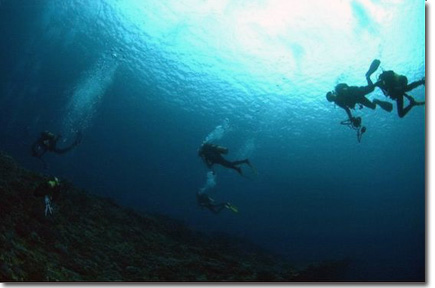 In the PADI Open Water Diver course, your PADI Instructor takes you
through the basics of learning how to scuba dive. You start in a pool
or pool-like conditions and progress to the open water (ocean, lake,
quarry, etc.) getting the background knowledge along the way.
Earning your PADI Open Water Diver certification is just the
beginning. As a certified diver, fabulous dive destinations, exciting
people, unparalleled adventure and uncommon tranquility await you.
And, as you continue your adventure and gain experience through
higher training levels, your opportunities expand.
Becoming a diver opens a door to a whole new world. Open yours
and step through.

| | |
| --- | --- |
| | PADI進階 開放水域潛水員課程 |
| | PADI Advanced Open Water Diver |

Move up and experience real adventure with the PADI Advanced
Open Water Diver course. As you step beyond the PADI Open Water
Diver level, you make five dives and have the opportunity to try
some of diving's most rewarding and useful specialty activities,
suchas deep diving, digital underwater photography, wreck diving
and much more. These skills make

diving much more than

underwater sightseeing. Plus, the

Advanced Open Water Diver

course takes you one step closer
to Master Scuba Diver – the ultimate non professional certification in
recreational diving

.
| | |
| --- | --- |
| | PADI救援 潛水員課程 |
| | PADI Rescue Diver |
Challenging and rewarding best describes the PADI Rescue Diver
course. This course will expand your knowledge and experience
level. Rescue Divers learn to look beyond themselves and consider
the safety and well being of other divers. Although this course is
challenging, it is a rewarding way to build your confidence. Rescue
Diver training will prepare you to prevent problems and, if necessary,
manage dive emergencies. Many divers say this is the best course
they've ever taken. You'll cover: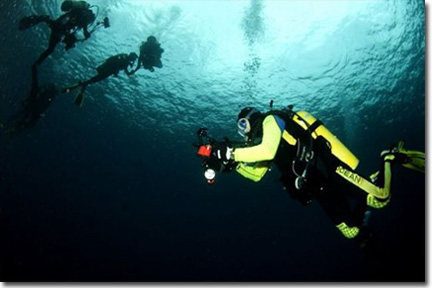 Self-rescue and diver stress
Emergency management and equipment
Panicked diver response
In-water rescue breathing protocols
Egress (exits)
Dive accident scenarios
| | |
| --- | --- |
| | EFR緊急第一反應 |
| | Emergency First Response |
Take a step toward emergency preparedness and meet PADI Rescue
Diver prerequisites with Emergency First Response. As one of the
foremost international CPR and first aid training companies,
Emergency First Response gives you the confidence to respond to
medical emergencies -- not just in the diving world, but in your every
day world with your family, friends, neighbors and coworkers too.
Emergency First Response courses encompass:
- CPR for adults, children and infants
- First aid for adults, children and infants
- Automated External Defibrillator (AED) training
- The Emergency First Response Instructor and Instructor Trainer
courses
| | |
| --- | --- |
| | PADI潛水長 課程 |
| | PADI Dive Master |
Your adventure into the professional levels of recreational diving
begins with the PADI Divemaster program. Working closely with a
PADI Instructor, in this program you expand your dive knowledge
and hone your skills to the professional level. PADI Divemaster
training develops your leadership abilities, qualifying you to
supervise dive activities and assist instructors with student divers.
During the PADI Divemaster

program, you learn dive leadership

skills through both classroom and

independent study. You complete

water skills and stamina exercises,

as well as training exercises that

stretch your ability to organize and solve problems. You put this

knowledge into action through an internship or series of practical

training exercises.
| | |
| --- | --- |
| | PADI高氧空氣潛水員課程 |
| | PADI ( Nitrox ) Enriched Air Diver Course |
Welcome to one of PADI's most popular specialties – the PADI
Enriched Air Diver course. Diving

with enriched air nitrox lets you

safely extend your no stop time

beyond the no decompression

limits for air. Diving with enriched

air means more time underwater
– but you need to be certified as an Enriched Air Diver to get
enriched air fills.